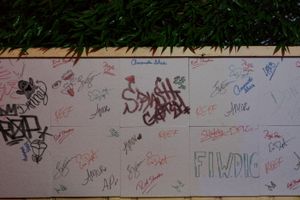 GROWTH THROUGH COMMUNITY AND COLLABORATION

Studio founder Alexander Padei, or just "Padei" (Sounds like PAH-day) faced a choice 8 years ago. Follow the rules and get a job, or break them and live the best life. That's not a choice that you make once, but daily. Like many other entrepreneurs, Padei learned, often the hard way, that the only consistent way to make it on one's own unique path is to dig in and make small improvements to himself and his craft every single day. 
That road would prove a long one. Though classically trained in childhood at his parents' direction, Padei had to pave his own path with music, building not only a skillset but a relationship with music that was on his own terms. In middle school he sang in the church choir, and in high school, he started a rock cover band and took turns as vocalist and guitarist. In freshman year of college, he joined a world-touring acapella group.
Soon, having realized he wanted to take music seriously, he started a nightlife imprint called "The List," and began DJing it's weekly / bi-weekly college parties. It was around this time he began simultaneously learning how to produce, rap, write and expand to non-musical roles such as marketer and entrepreneur. Padei would detour into various projects as he continuously incubated his artistry, whether serving as marketing director for TEDxHarvard College or organizing educational panels to help inspire other creatives.
It was through one of these talks that Padei met Laidback Luke. During the Q&A, which Padei moderated, Luke dropped a bomb for everyone in the room, "It takes me 5 hours to finish a record, on average." 
Padei made a decision right then and there. He decided that he wanted to do the same and go even further. If today's top producers could make a record with another artist in 5 hours, Padei wanted to do the same and ALSO play the artist. Following the example of inspirations like Kanye, DJ Khaled, Drake, Pharrell and Calvin Harris, Padei would move forward with one goal: Total mastery of every part of the record-making process. Padei would learn how to write, arrange, producer, record, mix and master at the highest level, possible. And he'd learn to do it with every genre of music he could get his hands on.

And the fastest way to do this? Collaborate. Padei set a goal to release collaborations with 30 artists in Boston in one year. Padei hoped that doing so would open him up, as well as those with whom he worked, in an equal trade of creative growth and inspiration. 

It worked. After a year and a half of development, Padei finally released the collaborative mixtape F*** It, We'll Do It Ourselves with 18 artists across the city. The underground project released to universal acclaim among New England's musical elite and local fans, alike. Going beyond music, Padei directed the creation of the first "continuous album video." Combining the concept of a music video, DJ set, and documentary into one unique visual piece that featured 14 tracks on the tape. 

Today, Padei continues his vision for a collaborative Boston through this studio. Musicratic stands for breaking creative barriers, creative development and, above all, great music, no matter what genre. It stands for a community that respects great music as being achieved not individually but through collaborative effort and mutual growth. We aren't here to make one great record but, ultimately, many. Join us and we can put Boston on the map.